The cosy new Moomin Coffee café that opened in summer 2019 at Helsinki Airport sees passengers off for their flights with treats inspired by Moominvalley in magical surroundings built to make the experience as Moominous as possible. Located at Helsinki Airport next to gate 40 at the Non-Schengen area, Moomin Coffee café is the world's first Moomin branded café at an airport.
"Any adventure will become a tad lovelier after a moment spent Moominously."
Moomin Coffee café offers busy passengers the opportunity to enjoy delicious food and café products in a relaxed and warm ambiance familiar from the Moomin stories. Let the pictures speak for themselves:
Delicacies inspired by Moominvalley and Moominmamma's recipes
The Moomin theme is present also in the café's selection of food and delicacies. Moomin Coffee serves a selection of sandwiches, like Sniff's delicious chocolate bread, as well as Little My's strawberry-vanilla valley, which is an enormous ice-cream sundae, and of course Moominmamma's sweet pancakes, which are available with two different toppings. Also other dishes have potential for being a crowd-pleaser: one sandwich has eggs for eyes and the other meatballs.
Smoothie bowls
Sandwiches
Moominmamma's pancakes
Hot cocoa
Little My's Strawberry Vanilla Valley
"Ruby hunt is our way to combat boredom at the airport"
In addition to the delicious and eye-pleasing delicacies the Moomin Coffee café offers a possibility to go on a thrilling hunt for the missing ruby to help Moomintroll to find the lost gems. In the new Ruby Hunt AR game, passengers get to help Moomintroll fix his broken ruby by going on a treasure hunt around the airport.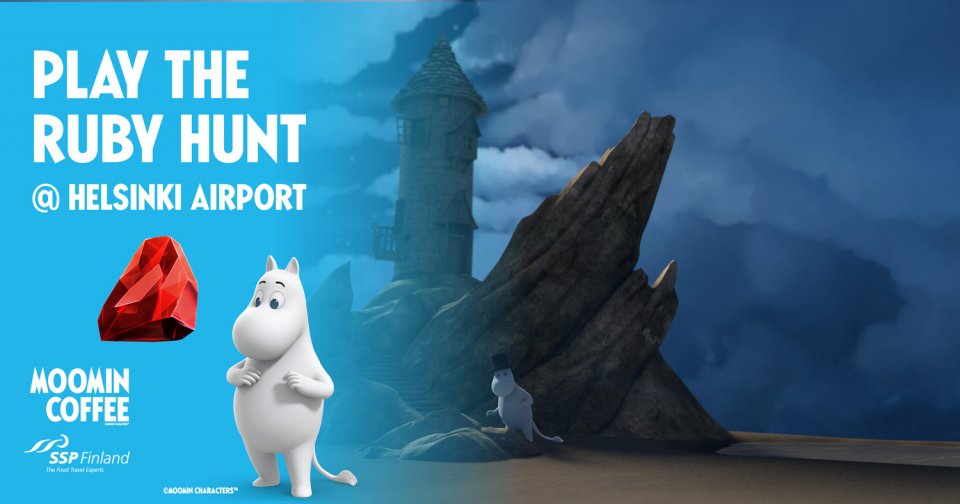 "The Ruby hunt is similar to a treasure hunt which is a familiar game at children's birthday parties, however augmented reality has been added," says Tero Asikainen from SSP Finland, the company behind the café. "Sometimes a five hour layover can be a drag so the Ruby hunt is our way to combat boredom."
Each poster includes a new adventure.
The treasure hunt game is free, and you can play it both in the non-Schengen and Schengen areas of the airport. In order to start the Ruby Hunt you will need to download the Arilyn AR –application and the map.